Great Writer Series:
Ralph Waldo Emerson

A project designing a text-heavy, 8-page + cover
publication for middle school and high school
students, introducinga chosen author to a new
and young audience.


My author of choice, provided by a list, was
Ralph Waldo Emerson for his intense yet calculated
essays andpoetry revolving around the indvidual
and journey to nature, questioning the world around
him of fact and theory.


I focused on his essays

Self-
Reliance, Nature
, and poem To Rhea. ATyp1 Conference Identity and Application
A Graphic Design and Advertising
project directed towards young designers
attending a typographic conference.

My choice of Oakland was to highlight the
consistent flow of tech/graphic design
companies moving and locating themselves
into the Bay Area, often displacing the
communities who find themselves at the
hands of erasure, especially in the arts.

As there aren't many Black designers overall
in the industry, I chose Oakland. A town I frequent
as it's next to my hometown, and the Black
community in the area, even now, are full of many
fresh contemporary ideas that often enter
hybrid territory.

I watched the city chang growing up due to
the amount of gentrification, but also seeing
even now how young Black designers in the
area take on the contemporary aesthetic to
repurpose and reclame. The linear
design highlights some of the architecture of
the tech companies there. In my project, the type
conference is hosted at Oakland School for the Arts.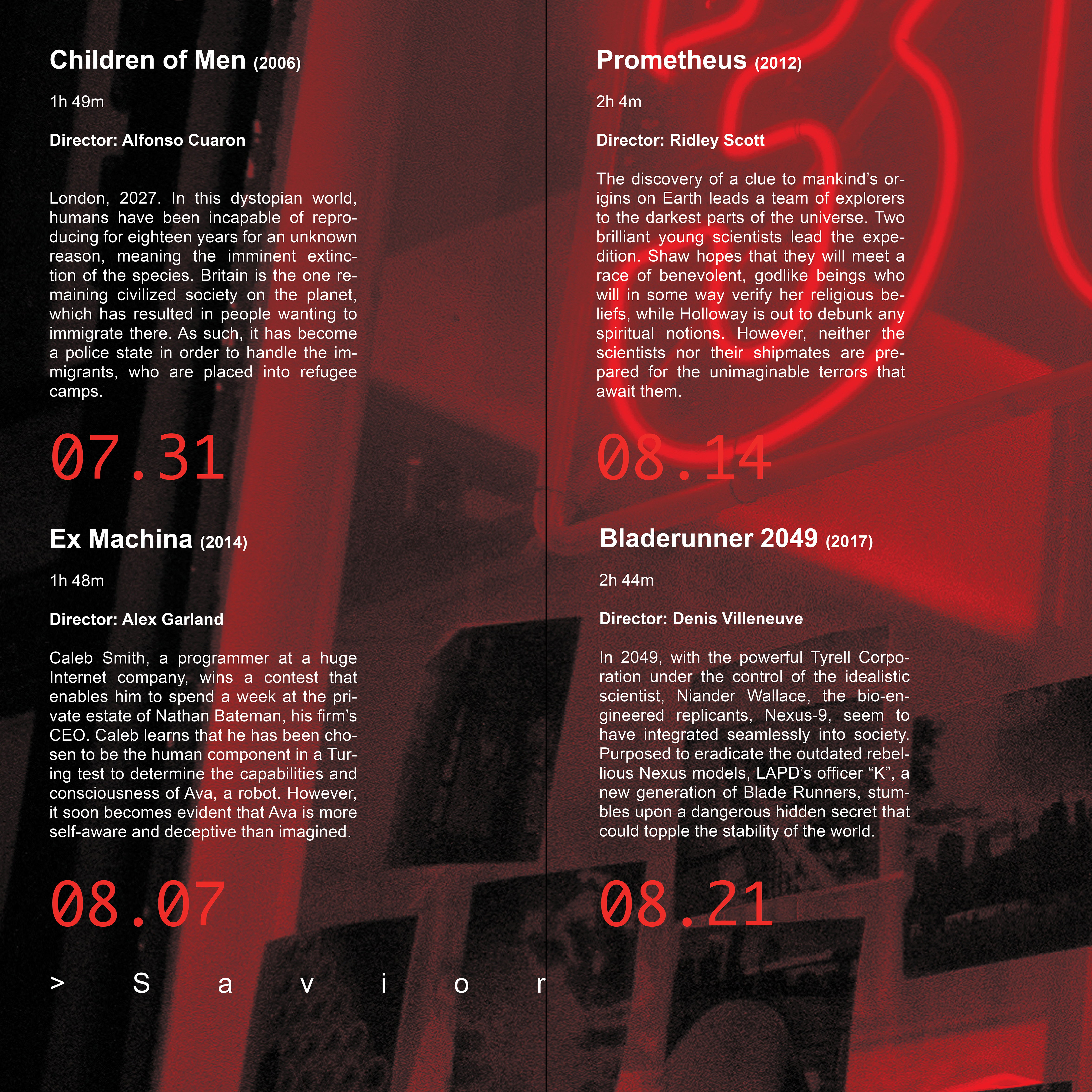 Summer Cinema Series
Poster and Foldable Brochure
A project designing for a potential Summer Movie
Screening Event organized by the ArtCenter Film Club.
The project focused on researching a chosen movie
genre and creating an ad for selecte films of said genre.

My chosen genre was Dystopic Sci-Fi Films.

30-Second Motion Design Midterm
A 30-second video sequincing a range of movement, narrative,
and graphic exploration with the limitation of shapes only.